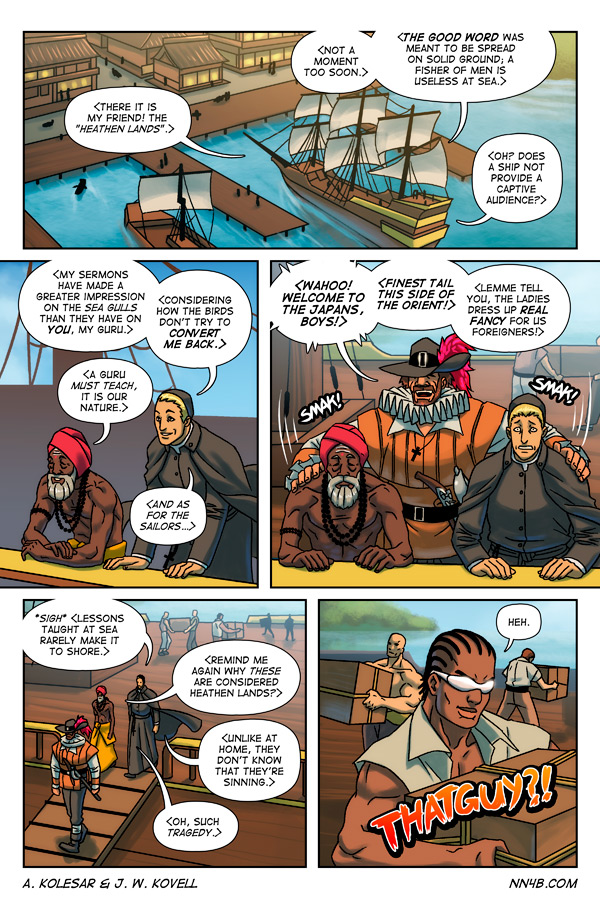 Comments
Features these Characters




Belongs to these Storylines
The Foreigners
|
Volume 4
Transcript
Panel 1. A Portuguese ship is docked at a harbor.
VASU (OP):
There it is, my friend! The "heathen lands."
MANUEL (OP):
Not a Moment too soon. The good word was meant to be spread on solid ground; A fisher of men is useless at sea.
VASU (OP):
Oh? Does a ship not provide a captive audience?
Panel 2. Vasu and Manuel are looking out over the edge of the boat.
MANUEL:
My sermons have made a greater impression on the sea gulls than they have on you, my guru. Considering how the birds don't try to convert me back.
VASU:
A Guru must teach, it is our nature.
Panel 3. Ricardo approaches Vasu and Manuel from behind and rests his hands on their shoulders.
(SFX: SMAK! SMAK!)
RICARDO:
Wahoo! Welcome to the Japans boys! Finest tail this side of the orient! Lemme tell you, the ladies dress up real fancy for us foreigners!
Panel 4. Ricardo, Vasu, and Manuel deboard the ship while sailors in the background move cargo.
MANUEL:
*Sigh* Lessons taught at sea rarely make it to shore.
VASU:
Remind me again why these are considered the heathen lands?
MANUEL:
Unlike at home, they don't know that they're sinning.
VASU:
Oh, such tragedy.
Panel 5. Lex, disguised as a sailer, is moving a crate while overhearing the conversation.
(SFX: THATGUY?!)
LEX:
Heh.