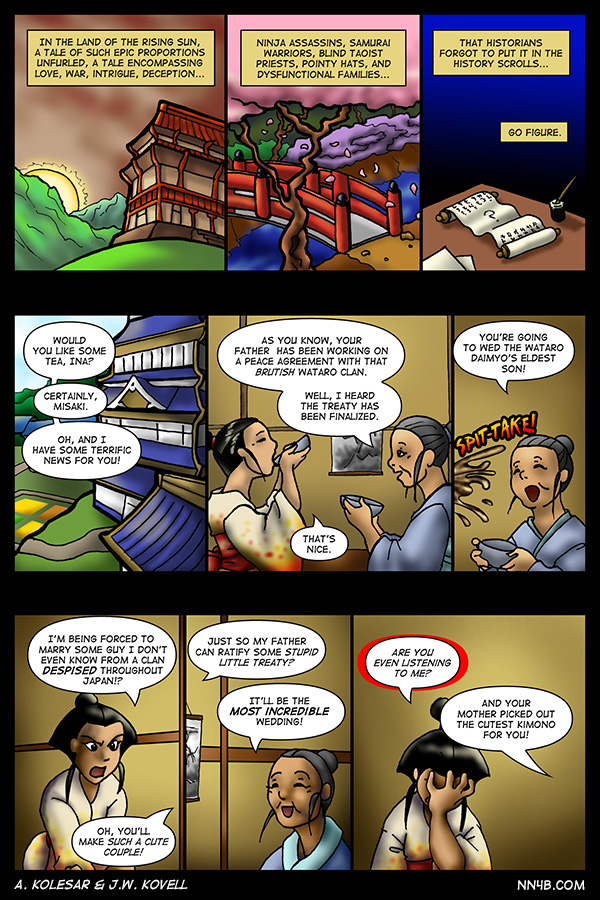 Comments
Features these Characters


Belongs to these Storylines
The Epic Beginning
|
Volume 1
Transcript
Panel 1. Japanese castle with a sunset in the background.
CAPTION:
In the land of the rising sun, a tale of such epic proportions unfurled. A tale encompassing love, war, intrigue, deception…
Panel 2. Small bridge and a blooming sakura tree.
CAPTION:
ninja assassins, samurai warriors, blind taoist priests, pointy hats, and dysfunctional families…
Panel 3. A large scroll with a question mark written upon it.
CAPTION:
that historians forgot to put it in the history scrolls…
CAPTION:
Go figure.
Panel 4. Exterior view of Senshin castle.
MISAKI (OP):
Would you like some tea, Ina?
INA (OP):
Certainly, Misaki.
MISAKI (OP):
Oh, and I have some terrific news for you!
Panel 5. A small room inside Senshin castle Ina and Misaki and sitting down. Ina is drinking from a tea bowl.
MISAKI:
As you know, your father has been working on a peace agreement with that brutish Wataro clan. Well, they finally reached an agreement.
INA:
That's nice.
Panel 6. Closeup of Misaki. A splash from an off-panel spit-take is show from Ina's direction.
MISAKI:
You're going to wed the Wataro's eldest son!
(SFX: SPIT-TAKE!)
Panel 7. Closeup of Ina.
INA:
I'm being forced to marry some guy I don't even know from a clan despised throughout Japan?!
MISAKI (OP):
Oh, and you'll make such a cute couple!
Panel 8. Closeup of Misaki.
INA (OP):
Just so my father can ratify some stupid peace treaty?
MISAKI:
It'll be the most incredible wedding!
Panel 9. Closeup of Ina with her hand covering her face in frustration.
INA:
Are you even listening to me?
MISAKI (OP):
And your mother picked out the cutest kimono for you!